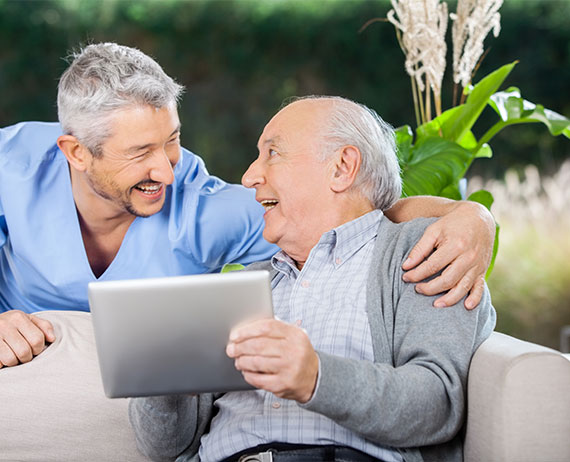 Promoting Wellness and Independence
Comprehensive skilled nursing services are provided at August Healthcare at Wilmington by professional teams of Registered Nurses, Licensed Practical Nurses, Certified Nursing Assistants and others. We offer individualized care plans, including stroke and neurological recovery, pain management, post-surgical care, wound care, Alzheimer's and dementia memory care and much more. Offering the care you require when you need it the most and doing so with compassion and respect is our goal at August Healthcare.
Care, Comfort and Company
While we don't believe in isolation, everyone needs a place to go to be alone at times. Our 40 private and 40 semi-private rooms at August Healthcare are move-in ready, complete with complimentary cable, flat-screen TVs and convenient bedside phones. And our staff is ready and never too far away to see how they can make you feel even more comfortable and content. Your nutrition is also important to your physical well-being. That's why we employ a dedicated dietary manager and a dietician who collaborate to develop nutritious meals that make your heart (and taste buds!) smile. Every meal features two enticing entree options to ensure that you get the food you love. And, for our traditional holiday feasts, we invite your family to join, too.
We offer rehabilitation therapy services at August Healthcare at Wilmington for those who no longer require an inpatient hospital stay but who are not ready to go home. Physical Therapy programs help patients rebuild the strength, function and mobility needed for a successful return home. Occupational Therapy programs help patients restore their ability to provide their own self-care (eating, dressing and bathing). Speech Therapy programs help patients with swallowing and cognitive difficulties. Our licensed therapy teams are an important part of the interdisciplinary team at our facility. All work together to create a plan of care that meets the goals and expectations of the person at the center of their care.
2 Separate Units,
1 Mission of Excellence
We Are Here To Care For Your Loved One.
Comprehensive care is front and center of August Healthcare – the singular reason for all we do and all we are.